Young People From Kingdown Trained Up To Tackle Bullying With The Diana Award
Back
October 18th 2021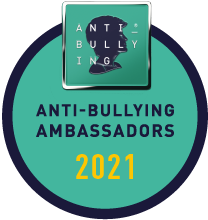 Last week, Kingdown's Head students took part in a one-day anti-bullying training session run by The Diana Award. All seven Year 13s worked together and acquired vital skills to enable them to change the attitudes and behaviours of bullying in their school by building their skills and confidence to address different situations, both online and off.
The Diana Award's free Anti-Bullying Ambassador Programme which is available to schools across the UK, sees trainers working with students and other young people to change the attitude surrounding bullying. The programme has a strong peer-to-peer focus, with trainers giving young people the skills and confidence to become Anti-Bullying Ambassadors to tackle bullying in their schools long after the training has finished. The Diana Award's anti-bullying work is recognised as world-class thanks to this sustainable approach.
The Diana Award Anti-Bullying Ambassador programme is run by the charity, The Diana Award. The Diana Award was founded as a legacy to Diana, Princess of Wales' belief that young people have the power to change the world for the better. Its mission is to foster, develop and inspire positive change in the lives of young people.
The training looked at bullying in different situations including face-to-face and online. At the end of the day, pupils made an action plan of how to approach bullying issues that may arise in their schools and committed to their roles as Anti-Bullying Ambassadors.
Commenting on the training Mr Bindon said, "the Head students were very enthusiastic in the training sessions and made some very good points and asked some fantastic questions. I really look forward to seeing the initiatives they introduce over the next year."