Extra Curricular
Sports Clubs
Kingdown School strongly encourages participation in a variety of physical activities to support a healthy lifestyle. To help support a large take up, late buses are arranged so that students are able to stay after school and access school transport.
We work closely with our feeder primary schools to enable and extend their PE and Sport provision so that students come to Kingdown School with the skills and motivation they need.
With excellent facilities, including a swimming pool and an all-weather sports pitch, together with a team of committed and enthusiastic staff, all students can participate and enjoy PE and Sport.
There are many after school sports clubs that students can attend throughout the year. These clubs are incredibly well attended with over 500 pupils per week taking part in an activity.
The school also organises competitive play against local schools.
Extra Curricular Clubs
There are over 90 extra-curricular activities offered throughout the year for every taste and age, including a wide variety of sports, dance, drama, choir, band, public speaking, lego club and many others.
PE & Sports Clubs - September 2021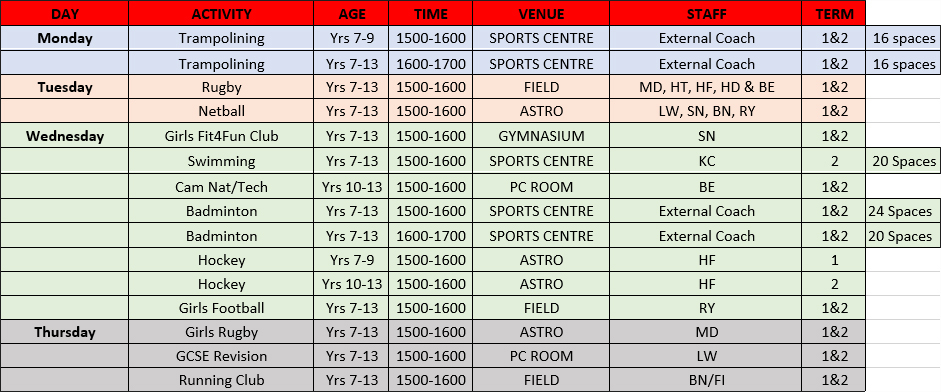 Please note:
Trampolining (Monday), Swimming (Wednesday - starts Term 2, week commencing 22nd November), and Badminton (Wednesday) are paid clubs. These cost £2 per session but is paid as a block of sessions.
All paid clubs can be booked from Monday 13th September on Parent Mail and officially start on Monday 20th September
These sessions have limited spaces (shown above, where relevant). They are first come, first serve.
All other non-paid clubs start on Monday 13th September and students do not need to sign up. They simply come to the PE changing rooms to register and change before the club starts (KS3 to PE changing rooms and KS4 to changing rooms by Top Tennis Courts).
Please be aware that Swimming will not start until the week commencing 22nd November 2021.